Our Axandus team is made up of experts who all have significant experience within the Sercel or EFI Automotive Groups. Today we meet Hervé, who has been the industrialization project manager at Axandus Lyon for a few weeks.
CAN YOU INTRODUCE YOURSELF TO US AND TELL US ABOUT YOUR CAREER WITHIN THE EFI AUTOMOTIVE GROUP?
Hervé GAILLARD, 54 years old, married and father of two daughters.
I joined EFI (Electricfil Industrie) in January 1990 as a mechanical process designer for ignition cables. Then I took over responsibility for the "special machines" department. And yes, we were manufacturing a large part of our assembly machines at the time!
I had the opportunity to start a production line for ignition wire sets in the USA, thus starting the first production at Electricfil Corporation, the American subsidiary of EFI Automotive, based in Livonia, near Detroit.
Then I worked for a couple of years on the start-up of the Chinese subsidiary, Electricfil Engine Components, in Wuhan: fitting out the premises, workshops, offices and starting the first ignition wire assembly lines.
Then, I was a technology leader for temperature sensors. Development of new techno bricks, guaranteeing product design and industrialisation.
In 2009, I took responsibility for the "plastics moulds and tooling" division.
Finally, in 2013, I joined the industrial department as technical manager of the production site in Beynost, managing the industrialisation and methods teams.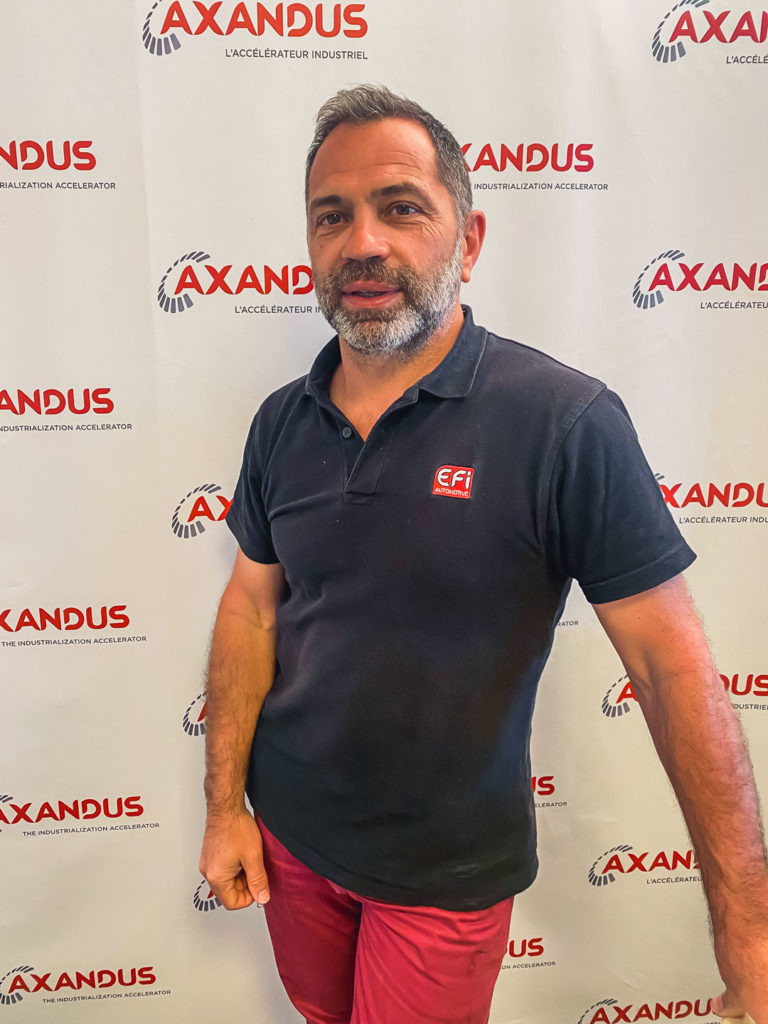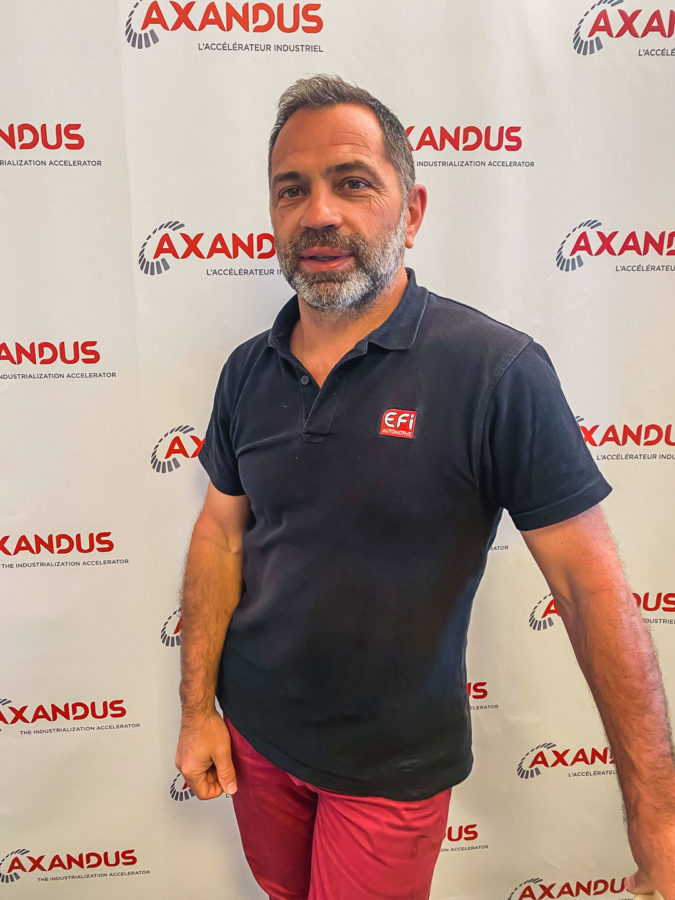 CAN YOU TELL US WHAT PROMPTED YOU TO JOIN THE AXANDUS DEPARTMENT?
I went up to the Axandus platform several times, spending time in front of the showcase of many different products!
The diversity of the products and the different fields of application (from the sea bed to luxury products) really appealed to me. And I've been working on products that go under the bonnet of a car engine for 30 years now.
Joining a small, multidisciplinary team is also attractive!
CAN YOU EXPLAIN YOUR ROLE IN THE AXANDUS TEAM?
I'm joining the Axandus team as an industrialisation project manager, in anticipation of Jacques' retirement in a few months.
For this position, I think you need to be able to propose and quote a process adapted to the need, with the level of automation necessary for the profitability of the product.
Of course, you also need to have the necessary field experience to set up these production lines.
Knowledge of different manufacturing processes and potential suppliers to make these machines is an asset.
My specialities are mechanics and automation. I am comfortable with calculating capacity and task time according to customer volumes and I have acquired a good understanding of lean manufacturing.
CAN YOU TELL US WHAT YOU LIKE ABOUT THIS JOB?
I like starting from a blank page, imagining what the manufacturing process of a product could be. I enjoy spending time making a process that seems complicated at first glance simpler.
I also like to argue my choices when faced with several proposals.
WHAT IS THE MOST DIFFICULT THING ABOUT YOUR JOB?
The automation professions and the various processes evolve very quickly. It is difficult to keep up to date. You often have to choose between a known, mastered technology and a more recent one. The same applies to automation and robotisation versus investment amounts.
IN YOUR OPINION, WHAT ARE THE STRENGTHS OF THE AXANDUS SERVICE?
This is a difficult question because I'm still discovering the team, but the first exchanges lead me to believe that minds are open, that everyone is capable of working on a broad scope, beyond their speciality.
I also have the feeling that the network is considerable, and that the team is on the lookout for everything that is happening in the world of entrepreneurship and start-ups.
IN YOUR OPINION, WHAT ARE THE KEYS TO A SUCCESSFUL INDUSTRIALISATION PROJECT?
Participation in the design of the product, risk analysis, reasoned costing, simplification for better control, anti-error systems to avoid counting rejects at the end of the line…
From a methods point of view: clear flows, avoidance of unnecessary operations (stock, handling, etc.) flexibility of the workforce about the volumes to be produced.
IF YOU HAD TO DESCRIBE AXANDUS IN 3 WORDS WHAT WOULD THEY BE?
Innovation
Diversification
Support
FINAL WORDS: WHAT IS YOUR FAVOURITE FOOD? AND WHAT IS YOUR FAVOURITE FILM?
It's not winter anymore, but never mind Morteaux sausages, potatoes, cancoillotte. Accompanied by a Savagnin of course!
I don't know if I have a favourite kind of film. I like cinema, but I would say a road movie: Little Miss Sunshine.